Ống bảo vệ cho cảm biến nhiệt độ Ống bảo vệ cho cảm biến nhiệt độ được sử dụng để bảo vệ cảm biến nhiệt độ khỏi áp suất cao, ăn mòn, nhiệt độ cao và các môi trường khác trong các quá trình khác nhau trong các nhà máy khác nhau. Thông thường, loại có tên THERMOWELL có thể được gắn vào đường ống và các loại khác độc lập với cảm biến nhiệt độ. Đối với mỗi lĩnh vực, đặc điểm kỹ thuật thiết kế phụ thuộc vào các điểm đến sau.
Specification by Purposes of Use
1.Hollowed-Out Protection Tube for Petrochemical/Gas Plants
Generally, hollowed-out protection tubes have flanges in many cases, and maintenance is easy. The 316 austenitic stainless steel is used as a material of protection tube in many cases, and various materials are used according to the purposes of use. TW20A type is equivalent.
2.Hollowed-Out Protection Tubes for Thermal Power Plants
When sensors are used in main steam lines, a screwed and welded type of protection tubes or a type of welded shell shape are used in many cases. Since they are exposed to a steam flow of high pressure/temperature/speed/density, they are thick and short to prevent breakage due to Karman vortex, etc. Types TW10D and TW10E are equivalent.
3.Protection Tubes for High Temperature for Incinerators
The one-body type with a temperature sensor is used in many cases. The internal thermocouple can be replaced. For high temperatures of 1,000℃ or higher, a ceramic protection tube is used. For usage as consumables, pipe type protection tubes are used in many cases.
Protection tubes/thermocouples for incinerators: Result of testing in actual incinerators
4.Sanitary Type Protection Tubes for Food/Medicines
To prevent fluid from sticking to a protection tube, buffing and electromagnetic polishing are applied to the surface of the protection tube. Protection tubes with a ferrule are used in many case, which can be attached/detached easily with a clump so that it can be cleaned easily.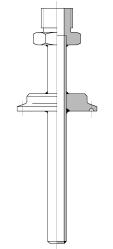 We design/manufacture protection tubes for temperature sensors in addition to the items above, responding customers' various needs. Especially for protection tubes allocated in piping lines, we calculate the strength according to the conditions of the use, judge usage availability, and for unavailability, determine various usable dimensions. Depending on the calculation results, we also design/manufacture protection tubes with spiral sticks for countermeasures against Karman vortex.
We calculate the strength of protection tubes according to ASME PTC 19.3-1974, the revised version of ASME PTC 19.3 TW-2016 (2010) or Japan Society of Mechanical Engineers, JSME S 012 for a fee. Also, we can submit calculation documents which comply with the High Pressure Gas Safety Act as well as the necessary certificates for inspections and materials.
Furthermore, we support various inspections required such as a pressure resistance inspection (water pressure: up to 49.03 MPa) and airtightness inspection (N2: up to 6.86 MPa), as well as X-ray inspection, enlarged X-ray photography (micro focus), and non-destructive inspections such as color check. Also, to check materials, we can perform a chemical element inspection with PMI testing apparatus. Representative product photos.
Basic Model
TW10A: Hollowed Out Protection Tube Screw Type
TW10D: Hollowed Out Protection Tube Screw Type with Lagging
TW10E: Hollowed Out Protection Tube Welding Type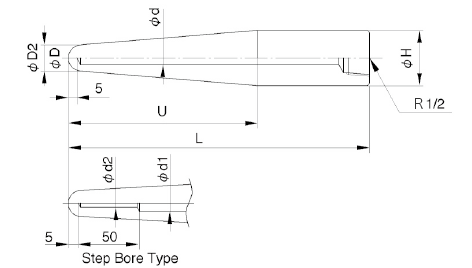 TW10F: Hollowed Out Protection Tube Screw Type Round Head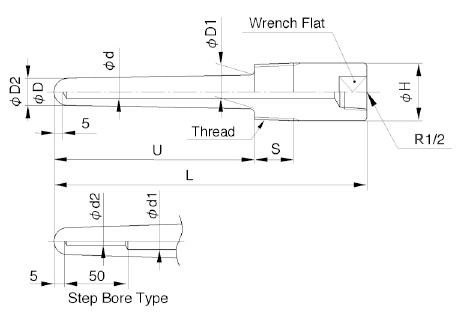 TW20A: Hollowed Out Protection Tube Flange Type
TW20B: Assembly Type Hollowed Out Protection Tube Flange Type
TW30A: Pipe Protection Tube Screw Type
TW40B: Pipe Protection Tube Flange Type
Catalog